Redlands Chapter, California Society Sons of the American Revolution.
Serving the Inland Empire Corridor and High Desert Since 1992.
---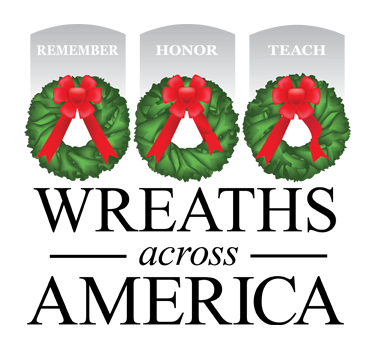 Wreaths Across America
is a 501(c)(3) non-profit organization founded to continue and expand the annual wreath-laying ceremony at Arlington National Cemetery begun by Maine businessman, Morrill Worcester, in 1992. The organization's mission, Remember, Honor, Teach, is carried out in part each year by coordinating wreath-laying ceremonies in December at Arlington, as well as hundreds of veterans' cemeteries and other locations in all 50 states and beyond. For more information please visit: http://www.wreathsacrossamerica.org/.

The tradition of placing wreaths to honor our veterans during the holidays has grown into a national movement, with over 350 participating locations, thousands of volunteers, and hundreds of thousands of wreaths placed to Remember, Honor, and Teach the service and sacrifices made by our veterans and their families.

The Redlands Chapter Sons of the American Revolution participates in the Wreaths Across America by placing wreathes for selected Veterans at the Redlands Hillside Cemetery and other locations.
---
Wreaths Across America 2016 at Riverside Arlington National Cemetery

On Saturday the 17th 2016 I was proud to join with Riverside SAR and represent our Redlands chapter as part of National Wreaths Across America Day at Riverside Arlington National Cemetery.

I was part of a 21 gun salute during the ceremony Wreaths Across America Day started with one wreath laid on a veterans grave. Now each December, volunteers place wreaths on individual veterans' graves in over 1,100 locations throughout the U.S., with ceremonies at sea, and at each of the national cemeteries on foreign soil.

There were thousands of volunteers on hand Saturday...

"We encourage every volunteer who places a wreath on a veteran's grave to say that veteran's name aloud and take a moment to thank them for their service to our country. It's a small act that goes a long way toward keeping the memory of our veterans alive.

We are not here to "decorate graves." We're here to remember not their deaths, but their lives."
—Karen Worcester, Executive Director of Wreaths Across America

Don Boatright
Redlands SAR
---
The SAR magazine in January 2017.

CA Compatriot January 2017-Page26.

CA Compatriot January 2017-Page27.
---
WREATHS ACROSS AMERICA:http://www.wreathsacrossamerica.org/
WAA Participating Locations:https://wreaths.fastport.com/
WAA 2016 Frequently Asked Questions:https://slimfaq.com/wreaths-across-america
Sponsor a wreath online directly through WREATHS across AMERICA: http://www.wreathsacrossamerica.org/sponsor-a-wreath